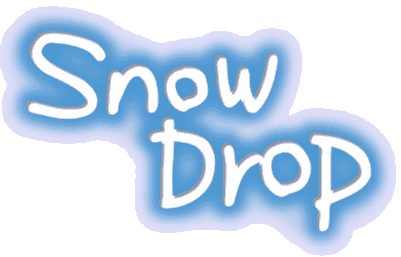 By Peach Princess and Will Sweet Basil
The following is a direct quote from the back of the box of Snow Drop. Copyright Peach Princess.
Welcome to the world of Snow Drop, a wonderful romantic bishojo adventure in a winter wonderland, from Peach Princess and Will's Sweet Basil label.
You are Minoru Sasazuka, a hopeless romantic. Invited on a winter dream ski trip with a group of friends, you head for a ski lodge for some winter skiing and fun. For you, it's a journey home...
As the interactive adventure story develops, you are confronted with the reality of the love of childhood friend Kyoka on the one hand, and the compelling mystery of the quiet and beautiful Shizuka on the other. Although many erotic temptations are in store in the quiet mountain retreat, you must be true to your heart if you're to find the love you seek.
End quote
System Requirements:

Windows 95/98/ME Pentium 133mhz or better
32 megs of RAM
570 megabytes of HD space

Comes With:

Game Disc, Full Color Manual, Omake(bonus) Pictures and Files
Extensive Liner Notes Explaining Many Cultural Aspects Of The Game

Read the fairy tale which inspired this game!
The Story of the Snow Lady